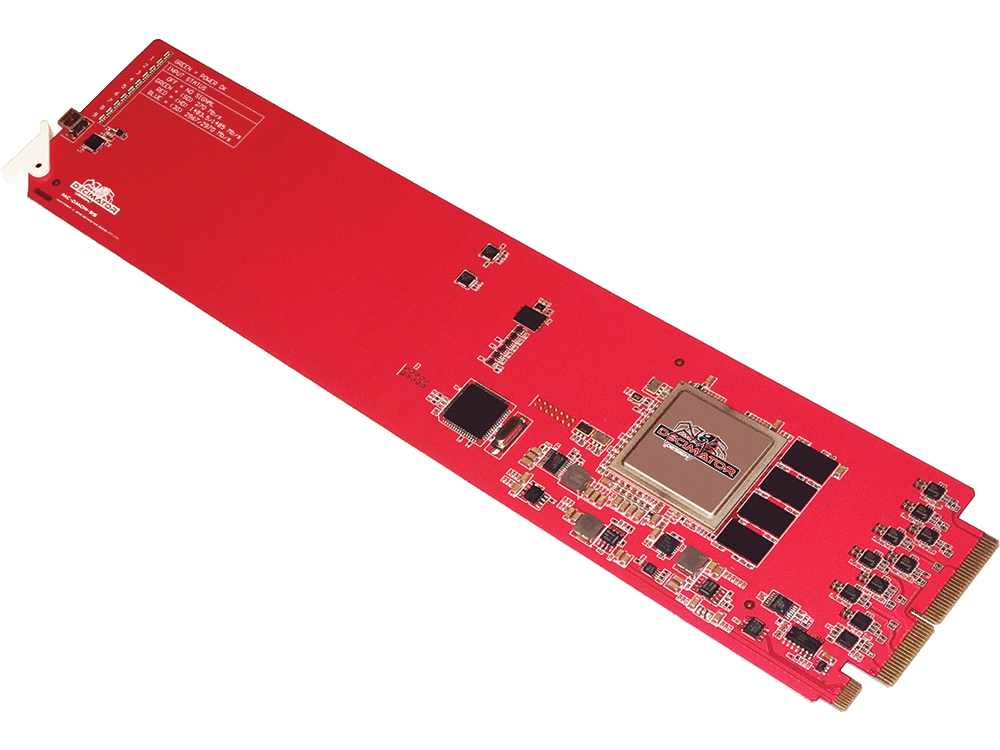 MC-DMON-9S
1 to 9 channel openGear multiviewer with SDI output for 3G/HD/SD.
The MC-DMON-9S from Decimator Design is a low cost, miniature 9 to 1 openGear card Multiviewer. The 9 SDI inputs are independent of each other, allowing a non-synchronous mix of 3G/HD/SD feeds. Select from preset layouts or customise your own, and monitor any number of inputs between 1 and 9. The Decimator MC-DMON-9S multiviewer allows you to:
Monitor between 1 and 9 independent 3G/HD/SD-SDI feeds
Select your output format in 3G/HD/SD-SDI
Fully customisable layouts with ability to save & load
Support for 3G level A+B allowing conversion between the two
16 character customisable UMD overlay per window
16 channel customisable Audio Metering overlay per window
Customisable Safe Action, Safe Title and Centre Cross overlays
Each window is independent of the others with variable aspect ratios
Auto Detect & display any format of any frame rate simultaneously
Fast switching between inputs using Full-Screen scaling
openGear DashBoard for control
Warranty for all Decimator Design products is 3 years.
For full product specs please visit the Decimator Design website.
All trademarks are property of their respective owners.
E&OE
If you are having issues with your product or need help with setup, please fill out our Support form.